The global Polytetrafluoroethylene market size was valued at USD$2.87 billion in 2017 and is anticipated to progress at a CAGR of 5.2% from 2018 to 2025. Increasing demand from various application industries, especially electrical and electronics sector, is expected to drive the PTFE market.
PTFE is an important fluoropolymer, accounting for a significant chunk of the global market. It is a flexible, non-resilient, and robust material with excellent chemical resistance and thermal properties. It is also an excellent insulator over a wide range of frequency and temperatures.

The product finds numerous applications in different industries including automotive and transportation and chemical processing due to its properties, such as chemical inertness, superior electric insulation, heat and weather resistance, and low coefficient of friction.
Commercially, PTFE is made by two predominant processes namely granular polymer and dispersion of a polymer of much lower molecular weight and finer particle size. The other methods used for the manufacturing are decomposition of Tetrafluoroethene (TFE) under the influence of an electric arc and polymerization carried out by emulsion method with the help of peroxide initiators, such as hydrogen peroxide (H2O2).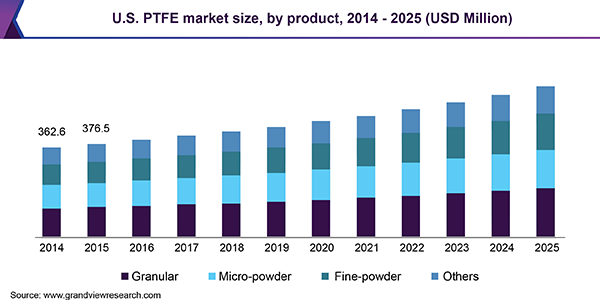 Vessels, mixer shafts, dewars, laboratory equipment,
fuel cells
, pump components, pipework, control/monitoring instrumentation, and thermowells are some of the major chemical processing PTFE applications. The product demand is expected to witness a significant rise owing to the robust expansion of the chemical industry, such as growth in several chemical production sectors including specialty chemicals, agrochemicals,
petrochemicals
, and fertilizers. On the other hand, high costs associated with PTFE may hinder the market growth over the forecast period. Increasing raw material prices for fillers, pigments, and fluoropolymer resins along with global demand for premium-grade products have led to the high costs of PTFE in the past few years.

However, global product demand is projected to exceed the supply, particularly due to novel applications, thereby propelling market growth. The global industry is concentrated in nature with prominent industry participants accounting for a majority of its share. Companies are trying to reduce production costs, improve supply chain dynamics, and develop high-quality products by investing in R&D. High operational and maintenance costs associated with PTFE resin plants are keeping the threat of new entrants to a minimum.

Granular PTFE is ideal for molding several products and stock shapes, such as sheets, tubes, and rods. Granular products segment led the global Polytetrafluoroethylene (PTFE) market and is expected to continue its dominance in the forecast period. Such products are available in chemically-modified grades.

Among other products, the fine PTFE powder segment is expected to witness significant growth in demand over the coming years. Fine-powder products are processed by mixing them with hydrocarbon liquid to facilitate extrusion as a best. Generally fine-powders, through paste extrusion followed by post extrusion heating, are converted into usable products such as tapes, shapes, and wire insulation.

Industrial and chemical processing was the largest application segment in 2017 and will continue its dominance over the forecast period.
Industrial processing applications include linings, gaskets, washers, seals, pump interiors, and spacers. The PTFE coatings in the chemical processing industry offer enhanced protection against harsh substances. Automotive and transportation industry plays a key role in the market growth in Asia Pacific. Key companies in the region are providing several PTFE products to meet the rising demands from automotive OEMs and tier 1 suppliers.
These automotive and transportation applications include lithium-ion battery packs, body exterior, chassis and braking systems, interior, HVAC, paint masking, NVH control, heat shielding and thermal insulation, and electrical insulation.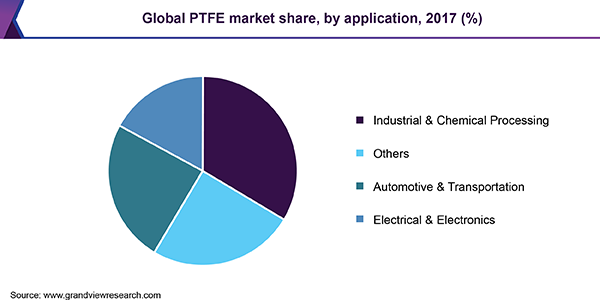 A large number of new vehicle manufacturing facilities in the emerging markets of India, China, and Japan are boosting the growth of the global lightweight automotive materials. This, in turn, is providing lucrative growth opportunities to the PTFE manufacturers in this region.
Asia Pacific accounted for the largest market share in 2017 and is projected to continue the trend over the forecast period. It is also one of the fastest-growing regions. This growth is primarily credited to rapid expansion in the industrial and chemical processing industry in major economies, such as China and India. In addition, the rapid expansion of the automotive industry in the region is projected to fuel the product demand further.
The production of passenger vehicles, trucks, and buses in South Asia increased by around 3% and reached 9.2 million units in 2017. Vehicle production in China rose by 3.5% and accounted for 29.5 million units in 2017. Driven by small car tax incentives and the broader economic stimulus offered by the Chinese government, this trend is anticipated to continue over the forecast period.

On the other hand, North America and Europe, one of the mature industries for electronics, led to continuous technological advancements for end products. This factor is projected to increase the demand for PTFE in North America and Europe over the forecast period.