The functional coil coatings market is growing rapidly with a positive CAGR of ~5.4% through 2029, propelled by building & construction and automotive industries globally, according to Fact.MR.
Polyester functional coil coating is widely used in coil coating formulation owing to the enhanced properties such as flexibility, scratch-resistance and cost-effective coating solutions. Moreover, the focus of market actors towards economical production technology and expansion of production facilities is further going to stimulate the growth of the
global functional coil coatings market.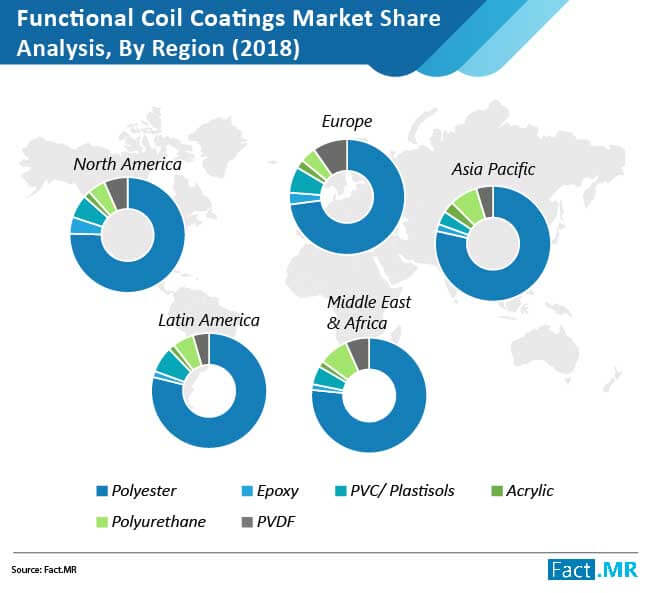 Demand for functional coil coating is anticipated to witness a spurt with the proliferation of sustainable coating solutions and increased consumption of PVDF based functional coil coating.
Key Takeaways of Functional Coil Coating Market Study
Emerging new application areas from diverse industries such as electrical & electronics and power industry are poised to increase sales by 1.6X by the end of the forecast period;
Topcoats and primers are expected to witness a similar growth trend of around 5.7% and are poised to create collective absolute $ opportunity of $140 million by 2029;
Polyester material type dominates the global functional coil coating market and is poised to create an absolute $ opportunity of $160 million by the end of 2029;
Fact.MR reports that demand for consumer durable end-use of functional coil coating collectively accounts for over two-thirds of the global consumption;
Waterborne coil coating among other technologies is likely to witness a striking growth of ~6% throughout the assessment period (2019-2029);
As compared to developed regions, the sales of functional coil coatings are envisaged to be higher in developing countries such as India and China
"Growing demand for green and sustainable functional coil coatings have compelled manufacturers to invest heavily in R&D to develop innovative, environment-friendly and cost-effective functional coil coating products," said an FMR analyst.
The functional coil coating market is highly fragmented with key players accounting for around one-third of the global sales. Prominent players including Clariant, Songwon, Solvay and Beckers Group are increasingly focusing on the expansion of production capacity, new product development and inorganic growth strategy to maintain a strong position in the market.
The functional coil coating market is predominantly driven by the building & construction industry with around three-fourth of the global sales and is poised to create an absolute $ opportunity of $200 million by 2029. Emerging economies like India, Indonesia, Brazil and China are expected to grow swiftly in the forecast period on the back of infrastructural development in the region.