The
Industrial Floor Coatings Market
size is estimated to surpass $6 billion by 2024, according to a new research report by Global Market Insights, Inc.
The Increasing number of manufacturing units, coupled with rising industrialization, is anticipated to drive industrial floor coatings market growth. Customer preference for better quality finishing and chemical resistant flooring will support product demand.
Strong application potential in food processing industry to maintain hygiene, quality and purity will fuel industry growth. The global food processing industry will register a 6 percent growth through to 2024. The industry contributes significantly in industrial floor coatings revenue generation owing to rising quality standards.
Double component accounted for over 50 percent of market share in 2016. Offering high toughness to withstand maximum possible friction on the floor is among the key feature driving product demand. Chemical resistance towards various organic and inorganic acids, wastes, alkalis, water and petroleum products will enhance growth.
Epoxy cementitious is the fastest growing segment, increasing at a rate of over 6.5% rate through 2024. Effective layering with single coats, high resilience and excellent resistance to chemicals and mechanical impacts will propel demand.
Oscillating crude oil prices will impact industrial floor coatings market price trend. R&D on bio based coating materials owing government regulations on material residues will open new avenues in the industry.
Concrete contributed over 85 precent overall industry share in 2016, superior features including better wear and tear and scratch resistance has positively influenced material demand. Ease of customization, low maintenance and appealing finishing drives the product consumption in several industries.
Growing demand for strong and high mechanical resistant floors in storehouses will drive demand in warehousing segment. Industrial floor coating demand from aviation and transportation stood at over 115 kilo tons in 2016.
APAC industrial floor coatings market is anticipated to be valued over $2.5 billion by 2024. China and India are projected to be among the key revenue generating countries. Favorable FDI norms along with increase in government spending to expand manufacturing sector will drive regional growth.
Germany will observe a 6+ percent growth up to 2024. Presence of major automotive manufacturing facilities in the country will drive regional industry growth. Germany generated over $30 million from aviation and transportation application.
Presence of numerous multinational and domestic manufacturers makes the global industrial floor coatings market share highly competitive and fragmented in nature. Mergers & acquisitions, product portfolio expansion and supply agreements are some of the business development strategies adopted major industry players.
Asian Paints, Sherwin-Williams, RPM International, Akzo Nobel, PPG Industries, BASF, Axalta Coating Systems, Roto Polymers, Tambour, Maris Polymers, Nora System, Milliken & Company, ArmorPoxy and Florock Polymer are among the key industry players.
Other notable companies includes DSM, Dow Chemical, Apurva India, Koninklijke Grand Polycoats, The Lubrizol, Plexi-Chemie, Michelman, Pro Maintenance and Ardex Endure.
Industrial Floor Coatings market research report includes in-depth coverage of the industry with estimates & forecast in terms revenue in millions (USD) from 2013 to 2024, for the following segments:
Industrial Floor Coatings Market, by Product
Epoxy
Polyaspartic
Polyurethane
Acrylic
Epoxy cementitious
Methyl methacrylate (MMA)
Industrial Floor Coatings Market, by Component
Single component
Double component
Three component
Four component
Industrial Floor Coatings Market, by Flooring Material
Industrial Floor Coatings Market, by Application
Manufacturing
Food processing
Aviation & transportation
Warehousing
The above information is provided on a regional basis for the following:
North America
Europe

Germany
UK
France
Italy
Spain
Poland
Russia

Asia Pacific

China
India
Japan
South Korea
Malaysia
Indonesia
Thailand

Latin America (LATAM)
Middle East and Africa

Saudi Arabia
UAE
Qatar
South Africa
Industry Trends
The global Industrial Floor Coatings Market size was over $3.5 billion in 2016 and will surpass 1,300 kilo tons by 2024.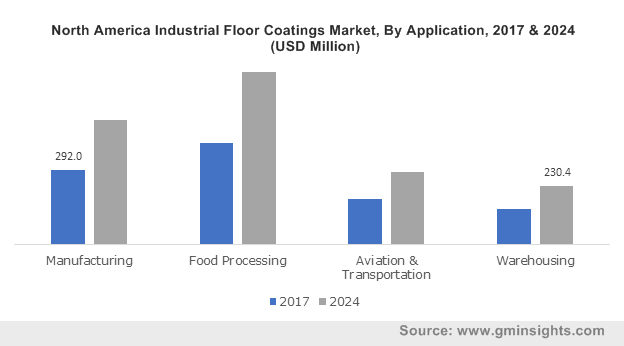 Rapid industrialization, rising government expenditure on infrastructure and manufacturing facilities will positively influence industrial floor coatings market growth. Shift in consumer preference for improved finishing ability with high mechanical strength and chemical resistance flooring will encourage product penetration.
Potential application scope in food and beverages processing industry will boost product demand. Global food and beverages industry is expected to rise at a rate of 6 percent up to 2024. This development is credited to increasing levels of quality, hygiene, contamination and purity of products.
Chemical protection, high abrasion along with low costing is among the key factors fuelling industry demand. The product is generally used as defensive layers that are applied to the ground surfaces. Growth in number of production units safeguarding interior from any damage will propel industrial floor coatings market growth.
Epoxy cementitious is among the key revenue generating segment. Superior properties including high reinforcement with urethane and little hardness will support industry growth. Delivering efficient protection along with cost effectiveness which leads to better product acceptance among customers.
R&D for bio based finishing materials to obtain better environment stability will drive industrial floor coatings market development. Fluctuating petrochemical prices will impact the product cost, thus affecting industrial floor coatings market price trend. Stringent government regulations pertaining to the product usage in food processing and manufacturing industry may hamper industry growth in near future.
Industrial Floor Coatings Market, By Product
Epoxy cementitious contributes over 25 percent revenue share in industrial floor coatings market in 2016. Durability in harsh environments with thermal shocks and efficient withstanding ability towards chemicals and impacts are some of its quality features. The product is extensively used due its high adhesion, flexibility and solvent resistance. Improved manufacturing plant flooring will provide a positive outlook to epoxy demand.
Polyaspartic will witness a growth over 5.5% up to 2024. Rising need for protection from harmful UV rays makes polyaspartic an excellent option for outdoor applications. It offers long term heavy duty use in warehouses, garages and food processing units.
Industrial Floor Coatings Market, By Component
Four component leads industrial floor coatings market with more than 40 percent revenue share in 2016. It is a self-levelling epoxy coating laid at a thickness ranging from 0.5mm to 2 mm. Requirement for smooth, monolithic, hygienic, non-porous and easy to clean flooring drives the component demand. Sufficient availability in varied colours and adequate strength to withstand factory wheels traffic are certain factors luring customers to use four component coatings.
Double component generated over $700 million in 2016. It is a glossy pigmented component providing high durability with improved strength against friction. Its chemical resistance towards several organic and inorganic alkalis, acids, wastes, petroleum products and water will drive industry growth.
Three component size will surpass $1 billion by 2024. It is a water based acrylic floor and deck coating particularly formulated for pedestrian traffic. Easy applicability, fast drying, and optimum adhesion to concrete, wood, metal and asphalt surfaces will drive the product demand.
Industrial Floor Coatings Market, By Flooring Material
Concrete has dominated the overall material segment and accounted for over 80 percent of the demand in 2016. Superior properties including prevention from abrasion, wear & tear as well as providing ease of maintenance, ability to customize and excellent aesthetic look. Increase in number of manufacturing projects and rise in demand for green technology are anticipated to propel industrial floor coatings market over the forecast period.
Mortar is expected to register 5.6% CAGR up to 2024. Increasing demand for decorative and durable flooring will provide advancement for product penetration. It offers highly impact resistant surfaces, skid resistant, point load capacity and exhibit impressive compressive strength. Further, eye appealing finishing will boost mortar demand.
Terrazzo accounted for over 5 percent of the industry share in 2016. It is a non-resilient flooring material formulated by remains of stone clippings, making it well recognised as a green product. Increasing replacement of concrete by terrazzo to provide environment friendly flooring solutions will drive industry demand.
Industrial Floor Coatings Market, By Application
Food processing accounted for over 30 percent of the overall demand in 2016. The growth is attributed to need for quality and purity of food products by maintaining a hygienic environment inside the production facility.
Manufacturing application generated over $1.1 billion in 2016 and is anticipated to register over 6 percent growth till 2024. Increase in number of manufacturing facilities along with regulatory compliance for improved infrastructure will support growth. Increasing passenger terminal aircraft hangers will facilitate product penetration in aviation & transportation sector.
Warehouse industry will witness notable growth owing to increase in demand for chemical resistant and durable flooring. Warehouse surface prevention from pallet jacks, rolling carts, and forklift will support product demand.
Industrial Floor Coatings Market, By Region
Asia Pacific is expected to witness over 6.5% CAGR during the forecast period. Food processing and manufacturing sector expansion will drive the regional demand. China, India, Vietnam, Malaysia and Japan are significant contributors owing to rapid infrastructure development.
North America industrial floor coatings market was valued over $800 million in 2016. Automotive, pharmaceuticals, chemicals and steel are among the major revenue generating sectors. Mexico is expected to grow at a fast pace in owing to factors including increasing disposable income, urbanization and population growth.
Competitive Market Share
Global industry share is highly fragmented owing to presence of large number of key industry players. Sherwin-Williams, PPG Industries, Axalta Coating Systems, Kansai Paints, Asian Paints, Tambour, Akzo Nobel, BASF, 3M, Roto Polymers, Nora System, Maris Polymers, RPM International, ArmorPoxy, Milliken & Company and Florock Polymer are among the key industry players.
These companies are indulged in supply chain of the product starting from raw material to suppliers, R&D activities and manufacturing procedures. Marketing and sales take place through third party distribution agencies, or from company owned retail outlets. Other significant companies are Dow Chemical, Grand Polycoats, Michelman, The Lubrizol Corporation, Plexi-Chemie, Pro Maintenance, Apurva India, Ardex Endure and Koninklijke DSM.
Industry Background
The industry is one of the fastest growing sector in the coatings industry. It consists of several key companies competing to occupy maximum customer foothold. Advancement in the finishing technologies through various research initiatives has particularly led China's growth. Several global companies tend to enter the country to increase their share in terms of both, value and volume.