The American Coatings Association (ACA) presented Frank C. Sullivan, chairman and CEO of RPM International Inc., with the George Baugh Heckel Award – the association's highest honor. Sullivan was recognized for his leadership efforts on behalf of the association and the industry. He received the award during ACA's Awards Reception & Dinner, which is held prior to the American Coatings SHOW in Indianapolis.
A former ACA chairman, vice chairman, and member of the Board of Directors and Executive Committee, Sullivan's tenure as ACA chairman, from 2012-2104, marked a period of notable milestones and growth for the association. This included passage of legislation establishing the industry's landmark paint stewardship program, PaintCare, in Rhode Island, Minnesota, and Vermont; the launch of PaintCare program operations in Connecticut; and passage of legislation in Oregon to make the state's PaintCare pilot program permanent. Under his leadership, ACA's civil justice reform efforts expanded, with the association filing
amicus
briefs in more than a dozen potential precedent-setting cases. His term also saw the transformation and rebranding of the Graffiti Resource Council (formerly the National Council to Prevent Delinquency) with a renewed mission to provide information, education, and legislative assistance to help communities develop effective policies and comprehensive programs that prevent graffiti vandalism.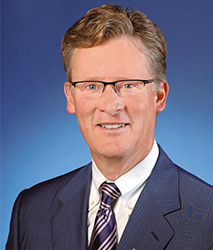 Notably, during Sullivan's time as chairman, ACA's American Coatings SHOW was named one of the "50 Fastest Growing Trade Shows in the United States" by
Trade Show Executive
magazine, and one of the "Top 250 Trade Shows of 2012" by Trade Show News Network.
In his role at RPM, Sullivan was elected chairman and CEO in October 2008. He joined the company in 1987 as regional sales manager for RPM's joint-venture AGR Company. He was elected RPM's vice president of corporate development in 1991, became chief financial officer in 1993, and executive vice president in 1995. In 1999, he was named company president; chief operating officer in 2001; and president and CEO in 2002. Sullivan continues to lead RPM in a manner consistent with the legacy created by his father and grandfather, founder of RPM.
Prior to joining RPM, between 1983 and 1987, Sullivan held various positions in commercial lending and corporate finance at Harris Bank and First Union National Bank.
He received his bachelor's degree from the University of North Carolina as a Morehead Scholar in 1983.
Sullivan serves on the boards of the Timken Company, U.S. Chamber of Commerce, Rock and Roll Hall of Fame and Museum, Army War College Foundation, Ohio Business Roundtable, Greater Cleveland Partnership, and Medina County Bluecoats Chapter.
The award is named for George Baugh Heckel, a pioneer of the paint and coatings industry. An artist, poet, novelist, journalist, physician and surgeon, Heckel devoted much of his life to promoting the interests of the coatings industry.