Coatings World staff

12.17.20



A world of possibilities for paints and coatings has been unlocked by research being conducted by
AkzoNobel
, in collaboration with the Dutch Advanced Research Center Chemical Building Blocks Consortium (ARC CBBC).
The breakthrough innovation involves the development of a more sustainable way of making resins, which could pave the way for the introduction of futuristic functionality – such as intelligent paint that uses controlled release of active ingredients, or the ability to add new functionality during the lifetime of a coating.
The new process uses bio-based monomers to make the resins, rather than the traditional oil-based.
Requiring just UV light, oxygen and renewable raw materials, patent applications have already been filed for resins and coatings made with monomers derived from sugar derivatives isolated from biomass.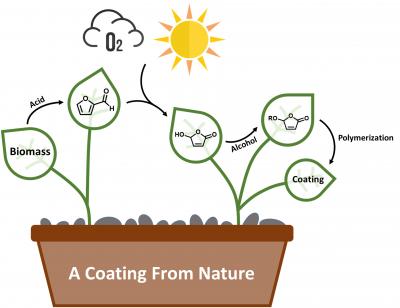 "There's no doubt we're on the verge of progressing to the next level of coatings technology, thanks to this fantastic example of collaborative innovation in action," said Klaas Kruithof, AkzoNobel's chief technology officer. "We're opening up a new future for paints and coatings by using sustainable building blocks that will enable us to explore and develop some really exciting functionalities for our customers."
AkzoNobel already produces many of its own resins, but in a bid to make the process more sustainable, the company has been working with the ARC CBBC, with most of this research taking place at the University of Groningen – where the team is led by professor in organic chemistry and Nobel Prize winner, Ben Feringa, and Ph.D. student, George Hermens.
"Faced with the challenge of developing the sustainable chemistry of the future – a major goal of the ARC CBBC – I'm extremely pleased with these game-changing results," Feringa said. "They show that a material for coatings can be produced from biomass using a sustainable chemical process."
Having started in 2018, the research project is still at a relatively early stage and a lot of work still lies ahead to optimize the monomers so they can be made in a more efficient way and on a larger scale. Estimates suggest it could be around five years before the first products start to emerge."
"We've still got a long way to go in terms of exploring the scope of the technology, but it will almost certainly define the future of our products," Kruithof said. "By 2040 or 2050, there's also a good chance we might only be using bio-based monomers in our resin production, which will help us to reduce the overall carbon footprint of our products."