The Industrial Liquid Coatings Market is set to grow from its current market value of more than $45 billion to more than $70 billion by 2025; as reported in the latest study by
Global Market Insights, Inc
.
Growth in the global oil & gas sector coupled with supportive government policies of emerging economies to boost manufacturing sector is the prime factor for the growth of industrial liquid coatings market in near future. The coatings are used to provide resistance to corrosion, UV rays, acids, oils and other types of contaminations that can deteriorate metal and hinder the performance of equipment. The product is mainly applied to various industrial metal equipment, components and pipelines.
Stringent environmental regulation related to the VOC emission from liquid coatings will negatively impact on the growth of global industrial liquid coatings market. Solvents used in coating formulations are hazardous as many are human carcinogens and are flammable or explosive. Environmental concerns associated with conventional ingredients, coating application technologies, and coating wastes are the driving forces for developing pollution prevention alternatives.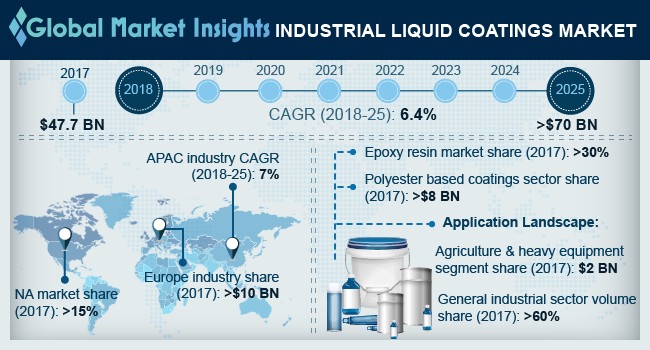 Industrial liquid coatings market is segregated into resin, product, application and region. The resin segment includes epoxy, acrylic, polyester, polyurethane and others. In terms of volume, acrylic based coatings segment will clutch over 15 percent of the entire market share in 2025. Properties such as excellent chemical resistance, color & gloss retention, outstanding early moisture resistance, flash rust/early rust resistance, etc. make it suitable for use over steel, aluminum, and zinc rich primers.
The product segment further segmented into liquid top coats, liquid primers, metal conditioners, e-coats and other. In terms of revenue, e-coats will account for more than 10 percent of the overall segment share by 2025. E-coats or electrocoats are high-performance products that are formulated to provide reliable mechanical strength and superior corrosion protection. The product is mostly used on hot rolled steel, galvanized steel, aluminum, magnesium etc. in agriculture, construction & earthmoving equipment, as well as automotive & electrical appliances manufacturing industries.
General industrial segment is likely to clutch the highest share of over 60% by 2025 with a wide range of industries covered under this segment. It includes industries such as home appliance manufacturing, food & beverage, textiles, steel, pharmaceutical, containers and packaging, etc.

Based on volume, Asia Pacific industrial liquid coatings market will witness the growth rate of around seven percent. A significant rise in manufacturing industries in Asian Countries such as China, South Korea and India will subsequently augment the entire industry demand in future.

The industrial liquid coatings market is very fragmented as numerous large, medium and small players are present in the industry across the globe. Some of the key industry giants are Nippon Paints, Hempel, Axalta Coating, Kansai Paint, Akzo Nobel, Baril Coatings, and RPM International.