Amruta Joshi , Content Writer

06.12.18



Reactive coating materials like intumescent coatings are highly technical products. Adherence to production codes and government regulations is essential for their production. Hence, their formulation, distribution, and quality performance are controlled by reputable manufacturers. Boom in construction sector around the world is expected to create business opportunities for the producers and other stakeholders in the supply chain. High demand for fire retardant paints, primers, and coatings complying with governmental rules and regulations can further boost the demand for these materials. In current scenario, intumescent coating manufacturers need to focus on managing product costs to improve overall sales.
#1 Emergence of Advanced Coating Technologies
Along with water, solvent, and epoxy-based intumescent coatings, advancements like introduction of powder coatings is anticipated to influence the consumer demand in the forthcoming years. Powder coating is applied on dry paint wherein it sticks to the surface due to the electroelastic charge. These coatings are easy to apply and are considered high quality as far as durability is concerned. The advanced powder coating with flame retardant quality does not produce volatile organic compounds or VOCs. This makes powder coatings an eco-friendly alternative for numerous applications across commercial, industrial, building and construction, home appliances, and electrical sectors.
#2 Developments in Oil and Gas Industry
U.S. intumescent coatings market, by end-use, 2014 - 2025 (USD Million)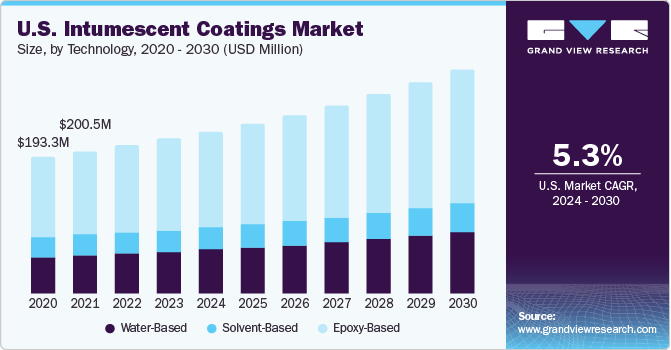 It is vital for oil and gas industry manufacturers to protect steel constructions in the plants from events of fire and combustion of methane, oil, liquid nitrogen gas (LNG), and liquid petroleum gas (LPG). Growing production of oil, shale gas, and natural gas, is expected to boost the demand for intumescent coating. Flame retardant coatings used for the protection from hydrocarbon fires are made using epoxy resins filled with active ingredients. These materials cause thermally insulating carbonaceous foam or char. This insulation can assist structural steel maintain its strength and shape during fire. Based on a study performed by the Civil Engineering Research Foundation for the National Institute of Standards and Technology (NIST), such coatings are durable and easy to apply. They are aesthetically acceptable, easy to clean, and have easy post-installation maintenance.
#3 Rising Prices of Raw Materials
Extensive inflation in the prices of raw materials is responsible for the price crisis in paints and coatings industry. Other factors like currency fluctuations and volatile prices of oil are also anticipated to further increase the prices of raw materials such as epoxy resins. Rising raw material costs are expected to force manufacturers to increase the prices of intumescent coatings. According to the experts, this is one of the primary challenges for the growth of the global intumescent coatings market. Owing to these price changes, major market leaders are increasing the prices of protective, active, and marine coatings as well.
#4 Asia Pacific: The Land of Business Opportunities
Industrialization and rapid growth in building and construction sector can boost the demand for intumescent coating from Asia Pacific. The region is anticipated to witness impressive growth in automotive sector, another factor impelling the demand for fire retardant coatings. Emerging countries like China and India are expected to provide business and investment opportunities to the global market leaders. Most importantly, the growth in regional oil and gas sector is poised to propel demand for intumescent coatings in the years to come. Companies like Indian Oil Corporation and Reliance Industries Limited are planning oil refinery expansion projects.
#5 High Adoption of Passive Fire Protection
Global intumescent coatings market share, by application, 2015 (%)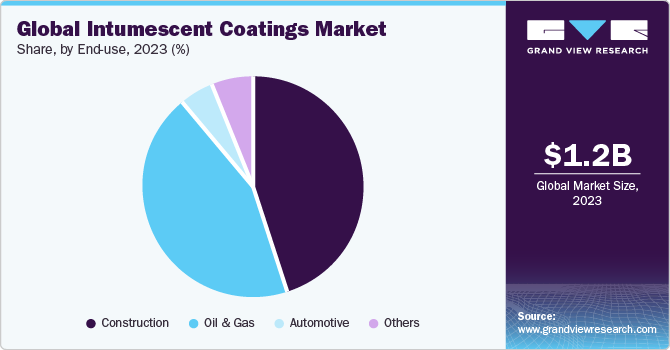 Based on a research report published by Grand View Research, Inc.; the
global market for intumescent coatings
is poised to reach a valuation of around USD 1.31 billion by 2025. High demand from Asia Pacific and rise in residential and commercial construction projects around the world are expected to boost the market growth. Fast-paced urbanization along with growth in adoption from oil and gas industry can bode well for the market on global scale. Steady rise in the exploration activities and applications of shale gas in different end-use segments can provide traction to this market. The industry is expected to witness impressive rise in demand for cellulosic fires. Hydrocarbons are also projected to witness steady growth owing to demand from refineries and oil and gas exploration activities.
The market for intumescent coatings is characterized by the presence of a number of raw material suppliers. This is expected to give a greater bargaining power to the manufacturers. Hence, despite price volatility, the market can achieve desired sales goals with product innovation and building a strong supply chain.
Amruta Joshi is a Content Writer specializing in varied industry verticals including personal care, healthcare, chemical and technology. Her work includes market research and writing blogs, PRs, guest posts, etc. on all the latest innovations and up to date events of her field. She has also done freelancing for an IT & software firm and has also worked as a full-time Copy Editor for a renowned German publisher for STM books.