Seven industry members received Industry Statesman Awards during the American Coatings Association's (ACA) Awards Reception & Dinner on April 9, prior to the American Coatings SHOW, which is being held April 10-12, 2018, in Indianapolis. The Industry Statesman Award is an honor given to individuals at or near retirement, in recognition and appreciation of their long and devoted service to the paint and coatings industry.
The following are ACA's 2018 Industry Statesman Award recipients:
Brock Brownrigg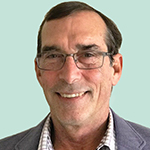 Brownrigg, retired CEO and owner of Sheboygan Paint Company, has served multiple terms on ACA's Board of Directors, from 2016 to the present; 2006 to 2008; and 1999 to 2001. In addition, he served on ACA's PaintCare Steering Committee in 2010, helping direct the association's landmark paint stewardship program at its start. He also served on ACA's Coatings Care Committee from 1999 to 2006, serving as its chair in 2006; and on ACA's Industrial Coatings Committee and Industrial Coatings Council from 2003 to the present.
Brownrigg began his career at Sheboygan Paint in 1977 as a customer service manager. Through promotion he held several managerial roles, including material manager and operations manager, before becoming CEO and owner in January 2001.
James F. Calkin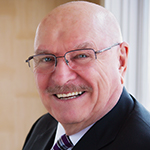 Calkin, retired vice president of key accounts at the HORN Company, first became an ACA member in 1966, and spent 50 years as a member. During that time, he served on both ACA's Industry Suppliers and Architectural Coatings Committees for 25 years.
After graduating in 1962 with a bachelor's degree in Economics and History from Columbia University, Calkin served as an infantry officer in the U.S. Marine Corps until 1966. That same year, he joined The Sherwin-Williams Company's Container division. In 1967, he went to work for the Titanium Pigment Division of NL Industries until 1973. Calkin then joined Borden Chemical and stayed until 1977, followed by five years at Reichhold Chemical. In 1983, he joined E.T. Horn Company — as HORN was formerly known — where he remained until retiring in March 2017.
Calkin has been a stalwart supporter of industry as a member of the Los Angeles Society for Coatings Technology (LASCT) for 50 years, during which he served on the society's Board of Directors from 1987 to 1993; and president from 1990 to 1991. For his dedication to industry, he earned an Honorary Membership from the society in 2017. He also helped establish the coatings program at California Polytechnic State University, San Luis Obispo, and served as a member of its Industrial Advisory Committee.
John S. Gaither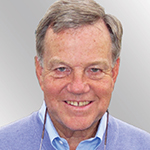 Gaither, retired president and CEO of Reichhold, served several terms on ACA's Board of Directors, from 1994 to 1998; 2004 to 2005; and 2010 to 2012. He was also a member of ACA's Executive Committee from 2010 to 2011.
After earning a bachelor's degree in Economics from the University of Pennsylvania, Gaither began his career at Reichhold Chemie AG in Austria in Eastern European sales, in 1967. During that time, he earned his MBA from INSEAD in Fontainebleau, France. In 1978, he took on the role of senior vice president, International for Reichhold Chemicals, Inc. In 1986, the same year he completed Dartmouth University's Tuck Advanced Management Program, he became president of the company's Reactive Polymers division (composites), then president of the Emulsion Polymers division in 1989. From 1993 to 1998 he served as president of Reichhold's Coatings Resins division, then left the company for six years to work with young startups. He returned to Reichhold in 2004 as president and CEO, completing the management buyout of Reichhold from DIC of Japan, and remained in his role through Reichhold's acquisition by Black Diamond Capital Management in 2015, and merger with Polynt in 2017.
Gaither retired in June 2017, but remains on the Board of Directors of Specialty Chemicals International LTD (owner of Polynt-Reichhold).
Jay Haines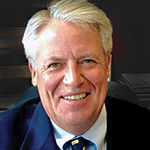 Haines, retired president and CEO of Textured Coatings of America, Incorporated (TCA), has served on several ACA committees.
He was a member of ACA's Board of Directors and PaintPAC Steering Committee from 2010 to 2012. He was also a member of ACA's AIM VOC Committee from 2010 to 2014. In its third generation of family leadership, TCA is celebrating its 57
th
anniversary in 2018. Since his commitment to TCA in 1996, Haines' vision and passion to produce new and innovative products has led to the introduction of numerous infrared heat-reflective product lines.
He is the inventor of many patents related to infrared coatings, and in keeping with TCA's commitment to environmentally friendly and energy saving coatings, his latest endeavor is a revolutionary line of patented energy saving wall, roof, and deck coating systems that TCA has added to its product offerings.
Michael J. Kenny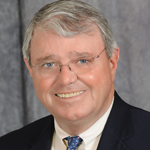 Kenny, who served as interim CEO, chairman, and operating partner of Henry Company, and is currently a senior advisor at AEA Investors, and operating partner at Graham Partners, has a long history of industry and ACA service. He was a member of ACA's Board of Directors from 1982 to 1987, and served additional terms on the Board and ACA's Executive Committee between 2005 and 2016. He also served on ACA's Management Information Committee from 1980 to 1985. He was a member of the Industry Suppliers Committee from 1980 to 1990, serving as chair from 1986 to 1990.
With over 40 years of experience in the building products industry, Kenny has led half a dozen international manufacturing firms. Prior to helming Henry Company, he founded Rockwood Holdings, Inc., where he served as president from 1999 to 2002. Rockwood Holdings, Inc. was formed in part by specialty chemicals manufacturer Laporte, where Kenny was president and Divisional Chairman and member of the board of directors of Laporte plc (U.K.). Prior to joining Laporte, he served as president of the Specialty Products division of Church & Dwight Co., and president of RHEOX, Inc. Prior to RHEOX, Kenny worked at NL Chemicals for more than 20 years in a variety of sales and marketing positions of increasing responsibility, rising to president of the company.
Before joining NL Chemicals, he served as a captain in the U.S. Army Artillery on active and reserve duty between 1967 and 1973.
Kenny earned his bachelor's degree from St. Peters College. He also attended the Harvard Business School Executive Education Program, and did Executive Studies at The Wharton School of the University of Pennsylvania and the Darden School of Business at the University of Virginia.
David Mazzocco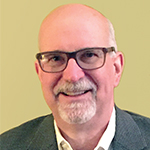 Mazzocco, retired global EHS director for PPG's Industrial Coatings segment, served on several ACA committees related to environmental health and safety. As a member of ACA's Environmental Management Committee from 1998 to 2016, he served as chair from 2000 to 2003. During that time, he led and participated in several subcommittees focusing on the development of U.S. EPA's MACT standards for coatings production and applications. Mazzocco was also a member of ACA's Industrial Coatings Air Regulatory Committee from 2009 to 2016.
During his more than 38-year long career with PPG, Mazzocco held many roles. He joined the company in 1978 as an analytical chemistry laboratory technician and advanced to the position of industrial hygiene chemist before becoming environmental engineering laboratory supervisor in 1986. In 1989, he moved to PPG's Cleveland, Ohio facility as environmental manager with responsibility for the Cleveland automotive coatings plant, Strongsville powder coatings facility, and 10 automotive service facilities. Mazzocco returned to Pittsburgh in 1991 as manager of air programs for PPG's Coatings Group. In 2000, he was promoted to global environmental manager for the Coatings Strategic Business Units, before being appointed global EHS director for PPG's Industrial Coatings segment in 2005. Prior to retiring in April 2017, Mazzocco also held interim positions as the company's compliance assurance director and EHS director for Architectural and Refinish Coatings.
Mazzocco earned a bachelor's degree in Chemistry from the University of Pittsburgh.
Rich Sabatine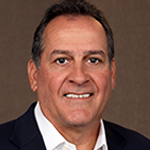 Sabatine, who will be retiring on May 1 from Covestro LLC as vice president of Global Accounts, has served on many ACA leadership committees. He served on ACA's Board of Directors and Executive Committee from 2005 to 2006, and another term on ACA's Board from 2008 to 2010. He has also been a longstanding member of ACA's Industrial Coatings Council (formerly Committee) since 2003.
Sabatine worked in various roles at Bayer MaterialScience before it became part of Covestro — including account manager, marketing director, and vice president of Functional Films and Specialties.
He earned a bachelor's degree in Chemical Engineering at Penn State University.