According to a new research report by
Global Market Insights, Inc.
, the Industrial Floor Coatings Market is estimated to exceed $7 billion by 2024.

Favorable macroeconomic conditions coupled with rising industrialization in emerging nations will drive the industry share. According to the Asia Development Bank, Asian countries are expected to invest $9 trillion for infrastructure development between 2010 and 2020 to augment industrialization and urbanization. This will create a surge in the number of manufacturing facilities, thereby fueling industrial floor coatings demand.
Industrial floor coatings are widely used in food and beverage processing facilities to maintain quality, purity and hygiene. Rising urbanization has influenced consumption patterns, increased disposable income will make processed foods affordable for a larger share of the populace. This will foster growth in the food processing industry and create substantial opportunities for the product.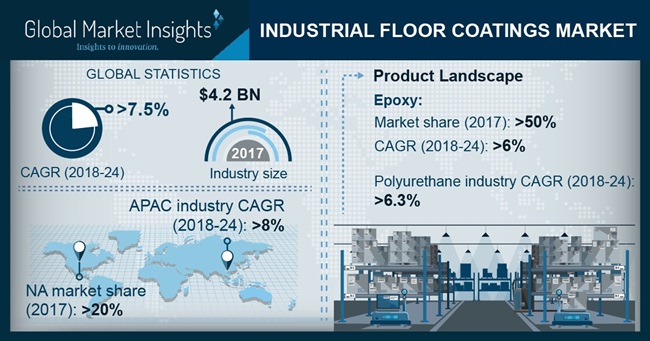 Epoxy dominated the market generated more than $600 million revenue in 2017. They are used as surface coatings in manufacturing facilities, food and beverage industry and warehousing owing to its superior resistance against hot tire pickups, abrasion and heavy impact. Easy installation, durability and low maintenance are key factors luring consumers towards the epoxy-based surfaces.

Double component held over 50 percent of the volume share in 2017. High degree of tolerance against friction is driving its popularity in the manufacturing sector. It is ideal for facilities with both heavy vehicle and pedestrian traffic. The product provides easy clean up as well as resistance against mechanical, chemical and bacterial elements.

Concrete material contributed over 85 percent of the overall industry share in 2017. Growing awareness among consumers on the limitations of concrete floors such as dust accumulation, difficulty in cleaning, cracking, microbial growth and weakening of reinforcement have fueled demand for concrete based surface coatings solutions.

Application in the warehousing segment will witness steady growth over the forecast timeline. Strong demand for high mechanical resistant surfaces along with an emphasis on safety will drive the product demand.

APAC industrial floor coatings marketed is estimated to reach $2.9 billion by 2024. Favorable FDI norms coupled with government investments to expand the manufacturing sector will drive regional growth. Moreover, the availability of low-cost raw materials and labor will enhance the region's appeal as a manufacturing hub, which in turn, positively influences the industrial floor coatings market growth.
Europe market is characterized by the presence of key industrial floor coatings manufacturers such as BASF, Dow Chemical and AkzoNobel. Strong demand from both domestic and international markets for major industrial output such as automotive, chemical and food will create lucrative opportunities for industrial floor coverings market in the region.

Global industry share is moderately fragmented with the presence of both multinational and regional players. Akzo Nobel, Dow Chemical, Sika AG, Kansai Paints, and PPG Industries are among the major industry players. Other notable participants include BASF, Asian Paints, DSM, and Sherwin-Williams. Mergers and acquisitions, product portfolio expansion and supply agreements are key strategies adopted major industry players to gain market share.