The global waterborne coatings market size
was valued at $53.32 billion in 2017 and is anticipated to progress at a CAGR of 5.7 percent from 2017 to 2025. The market is anticipated to be driven by the increasing construction spending and restoration activities in emerging economies of Latin America and Asia Pacific.
Waterborne coatings have gained a significant space and recognition globally predominantly due to the improving economic conditions and low environmental impact of these coatings. Waterborne formulations hold a major share of the overall market accounting for over 50 percent of the total volume consumed globally.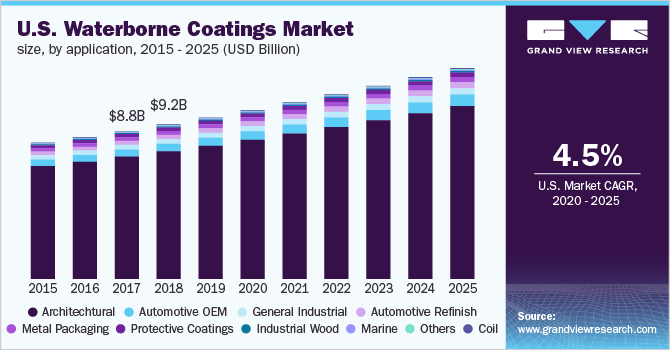 The overall market is expected to grow significantly over the forecast period owing to increasing demand from end-use industries such as infrastructure, automotive and general industrial. These coatings are widely preferred owing to properties such as 80 percent water content as solvent and low VOC emissions.
Synthetic resins, pigments, surfactants, and additives are the key raw materials used in the manufacturing of waterborne coatings. These raw materials are used to manufacture various types of waterborne coatings that are further used in various applications including architectural, general industrial, automotive OEM, metal packaging, protective coatings, automotive refinish, industrial wood, marine, wood, coil, and a few others.
The regulatory framework for waterborne coatings is governed by the Environment Protection Act; U.S. Environment Protection Agency (EPA); and Registration, Evaluation, Authorization and Restriction of Chemicals (REACH) among others. These regulatory bodies specify the chemical and physical risks associated with the use of the raw materials in the manufacturing of waterborne coatings, and the general requirements for labeling, storage, and the use of these raw materials.
The transport, usage, and storage of the product and related raw materials is permitted, provided the safety regulations are stringently followed. In addition, government initiatives being taken in order to increase water content as a solvent is expected to benefit the market.
The growth of automobile production in China, Mexico, Indonesia, Malaysia, and Germany is expected to augment the use of waterborne coatings. In addition, growing construction activities in emerging economies of the Middle East and Asia Pacific are anticipated to drive the demand for these coatings. Buyers are looking for application-specific, high-performance pigments and additives so as to impart high corrosion resistance and aesthetic properties, this is expected to impact product growth.
The booming construction industry is expected to have a positive influence on the growth of the product market over the forecast period. The recent shift in trend from coatings with low or high volatility organic solvents to solvent-free coatings that have lesser emissions is expected to drive the demand for the product in residential and commercial coating applications.
Acrylic coatings held the largest share of the market and are expected to continue its dominance over the forecast period. Growing demand from the automotive and infrastructure industries owing to superior color and gloss retention in outdoor exposure is expected to drive the demand for acrylic coatings. Acrylic modified polyurethane coatings are widely used in automotive refinishes owing to excellent exterior durability.
Alkyd held a significant share of the market and is expected to be the fastest growing segment. Increasing demand in various end-use industries including industrial wood and metal packaging is anticipated to drive demand over the forecast period. Alkyd based coatings are used in caulks, fillers, and sealers for wood finishing due to their formulating flexibility.
Architectural application segment held the largest share of the market in 2017. Increasing infrastructure spending in Asia Pacific and the Middle East is expected to drive demand for this application segment. Waterborne coatings are used as decorative coatings in architectural applications such as indoors, trims, window frames, interior & exterior walls and wood varnishes.
Automotive OEM is expected to be the fastest growing application segment over the forecast period. A shift of automotive production facilities to emerging economies of Asia Pacific such as China, Japan, India, and Thailand is expected to be the key driving factor for impacting demand in the automotive industry.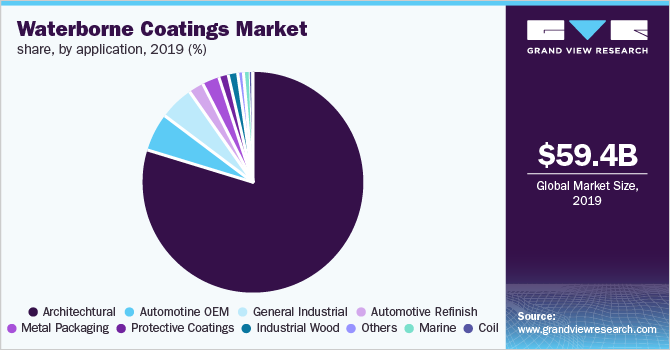 Stringent government regulations regarding VOC emissions and solvent content specifically in Europe and North America are projected to augment market growth. A rising trend in the automotive industry to use waterborne coatings in all repair work as well is expected to further increase demand.
Europe represented the largest market for waterborne coatings in 2017. Growth in construction market led by the recovery post-recession is expected to drive the market in Europe. Germany's regulatory body which includes Technische Anleitung (TA) Luft coupled UK's Environmental Protection Act provides the guideline for lowering VOC content in paints & coatings. This factor is expected to increase the demand for the product by replacing solvent-borne coatings used in construction activities in the region.
Asia Pacific held the second largest share of the market in 2017. A shift of major automobile manufactures in Asia Pacific countries such as China, India, and Indonesia is also expected to increase the demand. This factor is expected to drive demand from Asia Pacific. The emergence of new industries in Asia Pacific owing to low labor cost and government tax incentives is expected to drive the growth in the region.